Peaked
by Margaret Wiss
National Seashore, Peaked Hill Bars,
Provincetown, MA, USA
These two photos were taken during my time creating a dancefilm, landing, in a dune shack on the National Seashore for Peaked Hill Trust Arts & Science Residency 2022.
For two weeks it was just me, a shack, a well and an outhouse. No electricity, no running water, no other human life – just sand and sun. The dune shacks sit on the National Seashore of Cape Cod and are owned by the Peaked Hill Trust. They were originally built as part of the Coast Guard Stations and are made out of shipwrecks and other driftwood. The shacks have been owned and visited by many writers and artists and I was fortunate to be given a two week's residency in Ray Well's Shack where I expanded upon a dance film project I started in the pandemic.
The pandemic project was a series of daily dance improvisations in a farm field, reflecting the weather, time of day, and plant life around me. I had to find a way to dance during the pandemic. My camera positioned on the ground captured a cropped image of the sky, my arms, torso, and head as well as the growing vegetation. I continued this practice for 440 days and edited it into a dancefilm with spare piano music written by a composer I was collaborating with at the time.
At the Peaked Hill Trust Cape Cod residency and after two years of the pandemic and feeling "up in the air," I wondered, how do we come back down and find ease again? Do I just need more time or do I embrace change, this adaptable landscape and its constant shifting drift?
For this film, my camera was aimed at the ground. It captured the very similar but morphing daily sand formations. The place I chose was on my walk to get water from the well. I had to frequent this place everyday to fill up gallon jugs for my shower and dishes. Occasionally I ventured to film in other locations but the focus remained on the ground, except for one day a rainbow appeared after a storm. I had just gone swimming and to my amazement the sun peaked out and a rainbow appeared dipping into the sea and bounding into the bluff. I just had to dance with it.
The film is a 30min piece that explores my 15 days in dunes. Much like the previous pandemic dance film, the edits are mostly sequential. Now they are accompanied by my own voice—a spontaneous, heat-induced, reciting of my daily reflections.
What I continue to learn from these projects in nature is to be present, embrace the moment and the little happenstances – like a rainbow – relish in them and reflect that we are part of something much larger, much grander than ourselves and that is wonderfully humbling.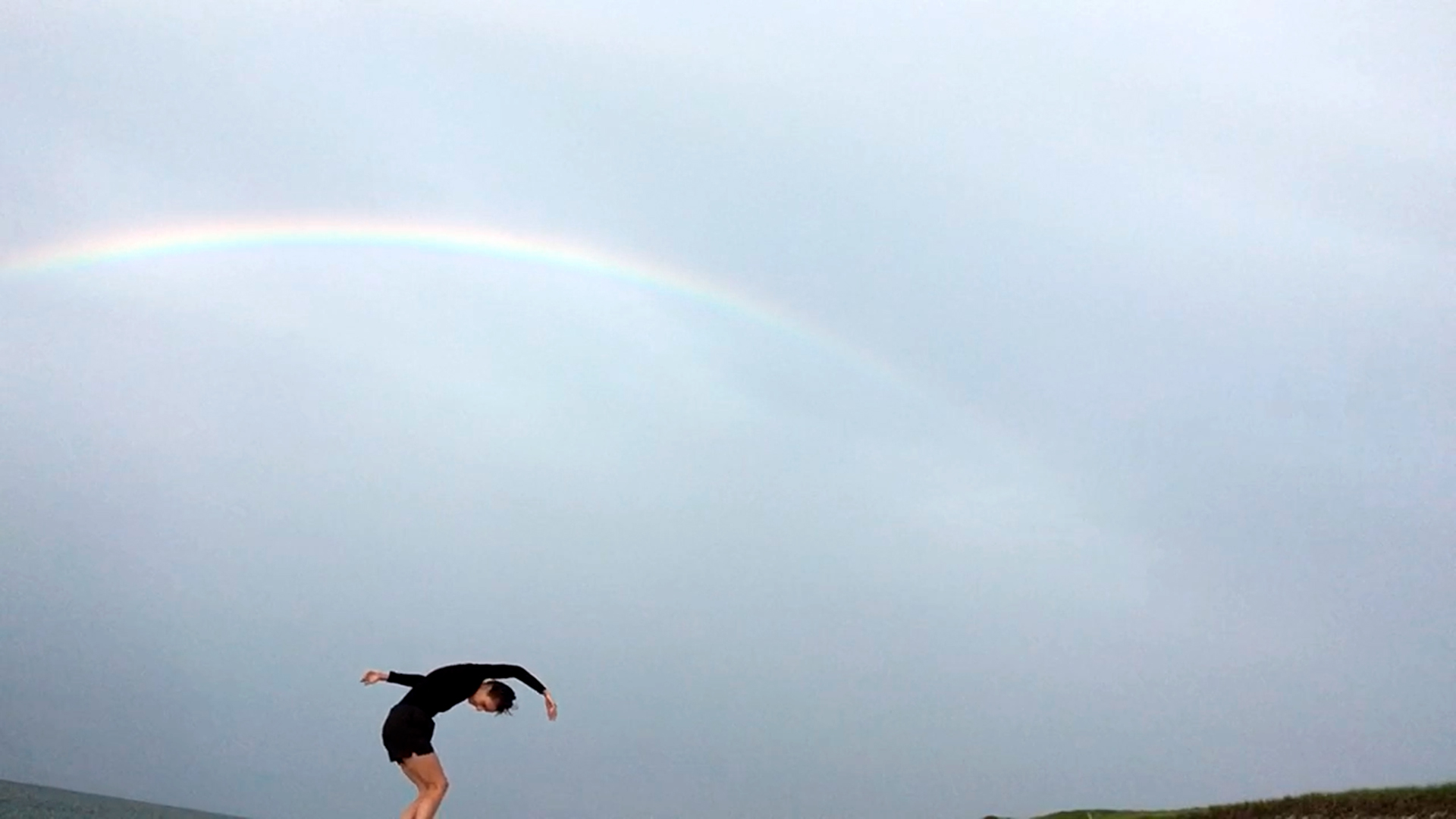 Margaret Wiss is an interdisciplinary artist and her work seeks to be shaped by each environment and the individuals who contribute to its development. She values the vitality of collaboration. She has an MFA in Dance from New York University's Tisch School for the Arts.